Wishing for a Noise Free home?  Do you find it harder to concentrate due to unwanted noise coming from outside? 
Unwanted noise can become a major problem for many people, whether it's from a busy road outside, traffic, construction or noisy neighbours. The noise can disrupt sleep, work and daily life causing unwanted stress and frustration.
While there are many methods to reduce noise, secondary glazing has proved to be a popular option for homeowners and provides them with a peaceful and quiet home.
There are many ways that secondary glazing stops unwanted noise coming from outside. It provides a quieter and more comfortable home to get a good night's sleep after a long tiring day.
In this article, we will discuss further how installing secondary glazing can be a great investment for your home and the benefits it offers and why homeowners are loving it.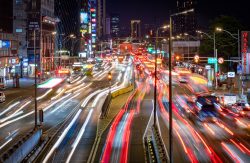 Stop The Noise in its Track
You must be wondering how secondary glazing works to reduce noise. let us explain…
If you are not already familiar with secondary glazing, you should be. We're kidding!
Let's Discuss what secondary glazing is.
Secondary Glazing involves adding an additional layer to an existing window. The second pane of glass work creates an air gap between the two panes, which works effectively reducing noise transmission.
The unwanted noise travels through the vibration in the air, which can easily pass through a single-pane window. Secondary glazing involves adding an additional layer of glass over an existing window, which creates an air gap between the two panes. This air gap acts as a cushion, absorbing and vanishing soundwaves, therefore reducing the amount of noise that enters your home.
This is also very effective at reducing high-frequency noise, such as loud noises from lorries on the roads. When deciding the type of secondary glazing to get for your windows, The thickness of the glass can also play an important role in noise reduction, if the glass is thicker it provides better insulation. We will discuss this later in the article.
Additional Benefits secondary glazing offers
Secondary glazing is cost-effective for reducing noise pollution, especially when compared to replacing existing windows with double-glazed units.
It can easily be installed by a professional with no disturbance to your daily life. The process of installing secondary glazing is quick and easy, it can be done in a short period of time. This means you will start seeing the benefits immediately.
The other benefit it offers that other market solutions such as double glazing do not offer is that it's reversible. This means for whatever reason if the secondary glazing needs to be removed it can be easily done without any hectic or annoyance.
This is also a great choice for period properties, where planning permission is required. However, even if you live in a period property you can easily upgrade your windows.
Aside from reducing noise, secondary glazing improves the thermal performance of a building. Due to the energy crisis and rising heating bills, homeowners are struggling to afford it. Installing secondary glazing will help to reduce those bills. Check our case study of how one customer saved 40% on their heating bills.
It also offers enhanced security, as with the additional glass added on which works as an additional barrier against forced entry.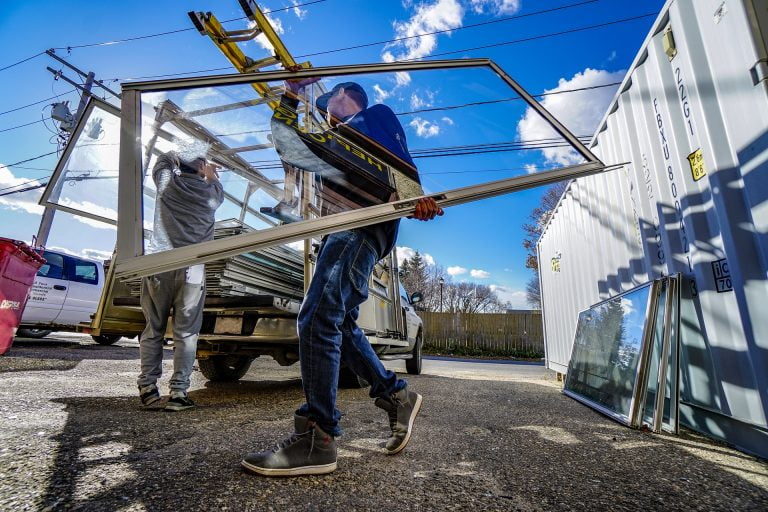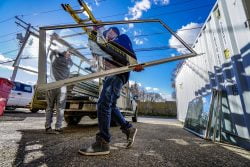 What glass would work best to reduce noise?
There is a great glass type to choose from for your secondary glazing. The all-glass offers different benefits, most are good at one thing. If you are looking to get secondary glazing specifically for noise concerns, we will help you decide the best glass option to fit your needs.
At Granada, we offer a range of glass options. The glass type includes Low-E, toughened, laminated and obscured finishes. Let us explain each of them in more detail.
Low-E: Low emissivity glass is the most effective at reducing the amount of heat loss in a home. It's very effective at improving the energy efficiency of a house.
Toughened glass: The roughened glass helps to improve the building's safety and security and meets building regulations.
Acoustic Laminated glass:  This acoustic laminated glass is a specialized type of laminated glass. It is specially designed for acoustic performance, which reduces noise transmission. it offers great acoustic performance for windows. This can be considered the best glass type for noise reduction and soundproofing.
Conclusion 
If you are somebody who is tired of the constant noise from outside and wants to do something about it, secondary glazing could prove to be a lifesaver for you.
It's also a great choice for people with young kids, who wake up during the night. With Secondary Glazing, you can rest assured that you won't wake up to a loud noise of a lorry passing by. It can provide you with the peaceful night's sleep you deserve.
At Granada, we have over 35 years of experience in the market to provide the best solution for homeowners like yourself.
Why Not call us today on 0808 168 2934 or fill out a Form online our experts will be in touch ASAP. 
Is secondary glazing right for you?
Download this handy guide to find out how secondary glazing can positively impact your home.