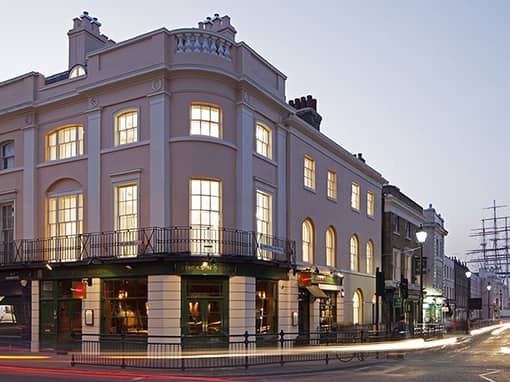 Call us today on: 0845 900 3899
Newly refurbished townhouses situated next to a corner unit designed by Joseph Kay in 1839 are a registered Grade II Listed Building. As part of the wider West Greenwich Conservation Area boasting stunning Architecture and Historical Importance.
The townhouses built in the 1930's as part of a separate development was brought into the 21st century with a modern
internal design and the addition of secondary glazing. Large timber sash windows were showing their age as winter draughts were breeching the primary windows.
As the building is part of the West Greenwich Conservation Area it was important to ensure the secondary glazing was unobtrusive and not visible from the exterior of the building.
Mike Latham Commercial Director notes "working within conservation areas and listed buildings is a speciality here at
Granada. The primary goals for this project was to ensure the thermal dynamics of the building was increased whilst adhering to the aesthetics and architecture. Our discreet aluminium secondary glazing has decreased the carbon foot print and is not visible from the outside. The installation of our secondary glazing preserves English Heritage and retains the original character and charm designed by the Architects."
Request a Free Quote – 2 Simple Steps
Is secondary glazing right for you?
Download this handy guide to find out how secondary glazing can positively impact your home.