Do you know that an average household losses 40% of heat through windows?
This can contribute to massive bills each month to pay. It's more crucial than ever now that our home is energy efficient.
Many of us face significantly higher bills during the colder months when we trying to keep our house warm. homeowners are looking for ways to improve the energy efficiency of their houses to save money. Many options are being offered in the market. One option that is becoming increasingly popular is secondary glazing.
What is secondary Glazing?
Secondary Glazing involves adding a glass panel to an existing window. The secondary glazing is placed on the inside of the primary window. This acts as an additional layer of insulation.
The two panes of glass are separated by a gap. This gap traps a layer of air.
This air acts as an insulator. It helps keep your home warm and reduces heat. This will reduce heat loss and will keep the cold air out of your windows.
There are many different types of secondary glazing, which are compatible with all sorts of windows. Find out more in our detailed article about the best options.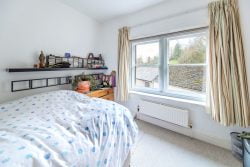 How secondary glazing work to reduce your energy bills?
In short, yes. By improving the thermal insulation of your home, secondary glazing can help to reduce heat loss and lower your energy bills. The Energy Saving Trust states that upgrading windows to secondary glazing can save up to £235 per year on energy bills.
Secondary Glazing works in many ways to reduce heat loss. Let's discuss this more in detail…
1. Improved Thermal Insulation
As we mentioned above, secondary gazing helps to improve the thermal insulation of your home. The additional layer of glass, create a insulation layer which works as a barrier to the cold air coming from outside.
Turning on the heater for one hour in the morning can keep your house warm throughout the day. This will provide a cosy and comfortable atmosphere.
Secondary glazing retains heat, lessening your need for central heating. This can reduce your energy bills. Check out how one of our customers was able to lower their bill by up to 40%.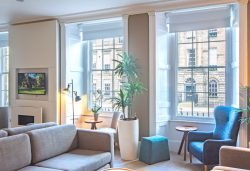 2. Save more money
Homes that install secondary glazing can see a dramatic reduction in their heating bills. Savings of up to 40% have been reported, according to Grand Designs.
This means that secondary glazing could prove to be a long-term investment.
It is essential to be mindful of energy costs in the winter. Heating expenses can be very high, leading to a dramatic increase in energy bills.
3. Cost Effective
Secondary glazing is a very cost-effective option compared to other type of glazing in the market. The most common one is DIY secondary glazing which could save you money, but it won't for years. Whereas, secondary glazing last for years to come, saving you time and hectic to constantly upgrade it.

4. Reduce Condensation
Secondary Glazing helps to reduce condensation levels in your home. A layer of glass is added to prevent warm, moist air from reaching cold surfaces.
This reduces the chance of condensation forming on windows. Read more on how secondary glazing could prove to reduce condensation in your windows.
Secondary glazing can reduce draughts and prevent cold spots in your home. This makes your living environment more comfortable.
5. Noise Reduction
If you live in a noisy area, secondary glazing can help to reduce external noise by up to 80%. Making this change can greatly improve the quality of your life. This is especially true when you have young children, who can then get a good night's sleep without interruption.
Secondary glazing can be beneficial if you live near a noisy area. It can reduce the amount of noise pollution coming into your home.
6. Increased Security
40% of the intruders gain access to a house through a window. Thankfully, you don't have to worry about that.
When you install secondary glazing, it provided added security. The strong glass of aluminium works as a great barrier, making it difficult for intruders to break into your house. This will enhance security and give you peace of mind. Especially if you live in an area with a high crime rate.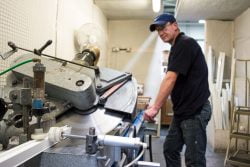 Is Secondary glazing suitable for my home?
Double-glazing windows are present in 75% of homes. However, some sealed units from the 1980s are not as efficient as modern versions. For those with poorly performing windows, secondary glazing can be an effective solution to upgrade their energy efficiency.
Even if you have a listed property, you would still be getting secondary glazing for your home. As it does not alter the window, it does not require planning permission.
You also don't have to change your existing windows. Secondary glazing fits with all types of windows and buildings. Upgrading windows for energy efficiency is a great option for homeowners. It preserves the aesthetic appeal of their building.
Secondary glazing is also easily reversible. For whatever reason, in the future, if you need to remove secondary glazing you can do it. This will save you any hassles. Secondary glazing also proves to be more energy efficient than double glazing and can last many more years.
Conclusion
Our goal for 2023 at Granada Secondary Glazing has been to provide homeowners with Energy-efficient solutions to reduce their bills.
Check out Our energy-saving calculator, which will help with how much money our secondary glazing products could save you.
Granada Secondary Glazing has over 35 years of experience.
We specialize in installing the highest quality secondary glazing available. Call us today on 0808 168 2934. Alternatively, fill in a Form online. Our experts will be in touch as soon as possible.
Is secondary glazing right for you?
Download this handy guide to find out how secondary glazing can positively impact your home.